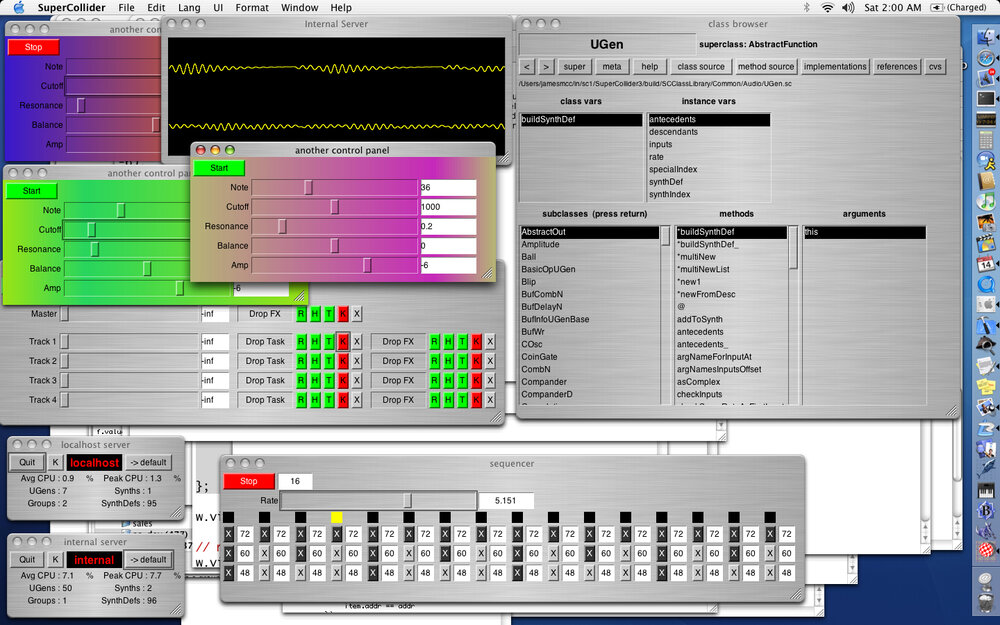 Introduction to SuperCollider Workshop
Date: Sunday, Dec 1, 2019: 1pm-5pm
Price: FREE!
Where : Co Exhibitions. 1101 Stinson Blvd, Ste 2. Minneapolis, Minnesota 55413
This free and open to the public sound and composition workshop is an introductory course to using the SuperCollider programming language to make sound and explore generative composition. Look forward to a fun and hands on environment, as students are guided through: instrument design, sound synthesis, audio processing, and algorithmic composition. Beginners are welcome and no prior experience is needed. Complimentary snacks and beverages will be provided.
Please reserve a seat by emailing Michael at masarurasam@gmail.com
About SuperCollider:
SuperCollider is a platform for audio synthesis and algorithmic composition, used by musicians, artists, and researchers working with sound. It is a powerful and diverse tool that can be used in a variety of ways: real time performance, interactive music, art installation, music composition, live coding, and more! It is open source and totally free of charge. SuperCollider works on Mac, Windows, and Linux .
Required equipment:
A portable computer with SuperCollider installed. https://supercollider.github.io/download
About the Instructor:
Michael Masaru Flora is an artist working with sound in a variety of contexts. He has been using code as a creative medium since 2012. His performance, recording, and installation work has been created predominantley with SuperCollider since 2015. He studied media arts at San Francisco State University, computer music at Stanford University's Center for Computer Research in Music and Acoustics, and sound and media arts at Alfred University.