I'm so sorry to hear that, was really looking forward to it
our jams went well so don't be surprised if you see us again in the future
edit: if no one signs up i could drop in and try, but i'm not sure i'm capable of carrying it without jason's beautiful melodic work
but I also don't wanna mess the show up and it's short notice!
Less than two days until the stream now!
Everyone who has signed up to participate, please test and make sure streaming is working for you. There's people able to help you out if there's any issue.
There is still one slot in the middle of the stream. If no one signs up within the next day I will try to figure out what to do with it. Perhaps it's easiest to move all later times forward? Please inform me if you need to play at a specific time.
i moved myself from the last slot to the open slot to facilitate a smoother experience. i'm happy with any slot though if someone else wants to go around that time
Indeed, the stream is TODAY!
Everyone participating, please make sure to check that your streams are working and that you're available on Discord when everything is going down.
When and where can your interested listeners go to see and here the livestream? I didn't see it listed here.
listening now… but not signed into twitch so Im probably not part of the official viewing figures. can hopefully stay with it for an hour or so.
best,
It has been a very excellent hour… congrats to all involved.
I was able to attend for a good bit of it today. Excellent performances. Thanks to all the performers for entertaining me, and to @oot for hosting! I hope there will be more of these to come!
Here's videos of those who saved their performances on Twitch (that I could find):
@Hovercraft

@synthetivv

@Gexex

@Hawthorn

@karol

@robotboot

@infinitedigits

The videos are unedited and I didn't timestamp so you'll have to skip forward to the point when I started hosting.
If anyone else who performed saved their performance in some other way, please post it in this thread!
It was a great experience to host this one and I'd love to do it again.
Thank you everyone who performed and everyone who came to listen! So many great perfomances!
big <3 to @oot and everyone who played on todays streams. I really enjoyed both playing and listening to the sets. It is such an inspiration to hear so much of different yet great music and as always my head is full of ideas to try later.
+1 on the big thanks to @oot! this was so much fun, as always
I highlighted out all of the extra dead space in mine. not sure why the video was so laggy.

Thanks for hosting @oot, and to everyone else that played. My performance (Resonant Space) starts 15 min into the video.
As soon as my stream got picked up i apparently was playing with an unknown glitch partner. So weird it was clean until the moment it got picked up so happy accident or really weird or whatnot…haha
@oot thanks a lot for hosting, it was a great experience. i wasn't thrilled about my performance (practices went better), but i had such a blast listening to everyone. all the open-mics in my city are closed for covid and this gave me that much needed open-mic kick (and with great electronic music to beat!).
I cleaned mine up a touch, topped and tailed it, and put it on YouTube. Thanks @oot for organising! Was great fun! Loved everyone's sets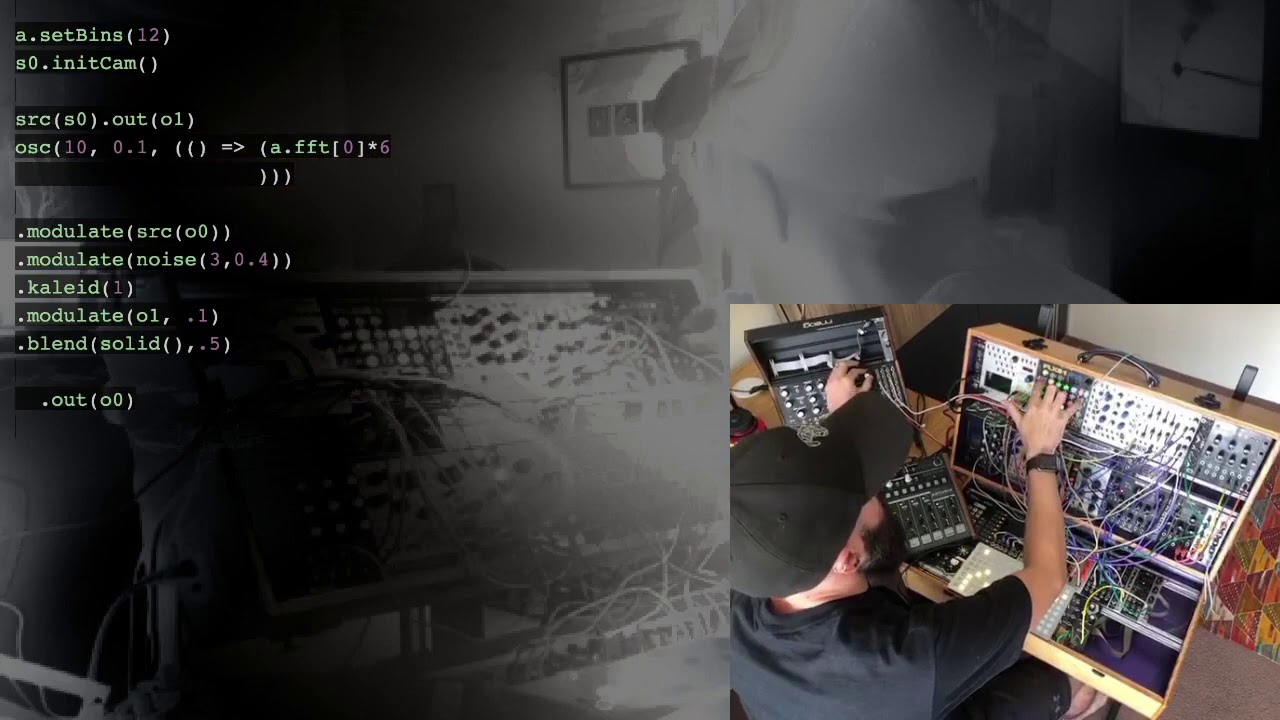 Been catching up, awesome work everyone! Amazing creativity and diversity!