I want mine to play "Computer Love" when it starts up
might add some malware to my next script that modifies that line in the source to play Never Gonna Give You Up in its entirety on every boot
hi, folks!
wondering if someone can tell me how to play an external synth with a grid/norns. how do i set up that work flow and what scripts work well for this. ideally i'd like to be able to play the grid like a push and also to use the grid/norns to sequence an external synth. seems like that's what @madeofoak is doing in this video: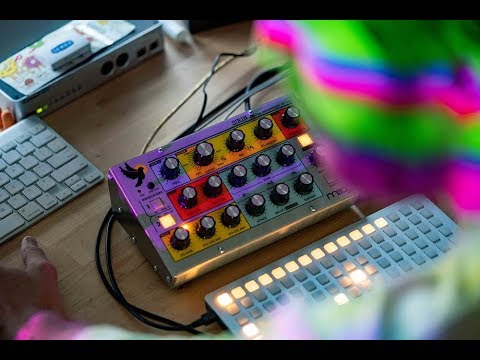 thanks so much!
hi
you might get better answers to this question if i move the thread…before i do:
what type of synth do you have?
thanks, @glia! i have a moog sirin and an OB6. i'd love to play both.
Ok cool!
A few notes…the video you shared is actually nick using eurorack modules to sequence things
but both apps are available for norns if you'd like to try them ( kria + earthsea) beyond those two, i'd recommend checking a few of the following:
also the library section of the forum is pretty well organized…check the tags for midi or crow (cv) depending on how you'd like to use norns as a sequencer
I'm looking for a patch like mabalhabla
twenty characters Gridkeys?
while we await components for the full batch in april we've produced a limited edition of 10 norns— we're calling them silver. they're made with bright-anodized aluminum enclosures which we made while prototyping earlier improvements. they are, well, quite shiny.
priced at $900 and partial proceeds support the food justice work of our friends at star route farm. in 2021 they grew and donated 17,000 pounds to food relief groups— if you have a minute, check out their site and read more.
they're listed in the normal place
Well, those went quick
What sequencer script is running in that image? I feel like the interface is familiar but I don't fully recognize it.
Saw it on the website and considered jumping on it, ended up being sold out by the time I got home

Honestly a blessing in disguise; I actually prefer the matte finish. (Not to mention I'd be terrified of fingerprints)
Congratulations to the 10 who got their hands on one, looking forward the april-ish batch. : )
the gloss actually isn't super finger-printy. not mirror-finish by any means, there's still a solid brushing under the anodize.
that said, the finish on the production batch for april is still slightly unknown— but it will definitely be a more matte finish.
Beautiful Norns; beautiful farm.
Was able to find a norns shield a couple weeks ago. Changed my life. Can't wait for the latest batch. Dual wielding Norns sets.
I also hope to dual wield one day!
I picked one up recently and have definitely been underusing it (I blame my new Matriarch). I need to step away from MLR for a bit and investigate some of these sequencer scripts I keep seeing.
Apologies in advance for not posting on the right thread. I am unsure as to whether I should post on here or on the general Norns thread(s).
I want to know: is there a version of sum for Norns. I currently use it on my macbook but I'd rather not be tethered to it.
currently there is not a variant of sum, though sum's constituent parts are all available in various forms (ie, mlr, step, flin-ish things)
Thanks so much, tehn. Love mlr. Will try the other apps you suggested.