Hi folks!
I have been using cloudbounce.com for the past year for semi-automated mastering. There are various electronic, world music, and yes, an ambient mastering option. For sub-options, there are 10-ish choices for further mastering options. You can see them in the video below.
First: I am extremely happy with cloudbounce! I have used it for a year, successfully, and I am simply trying to find out about alternatives before I renew for another year!
Background:
Despite taking (limited) electronic production classes, I never mastered mastering. I want to spend the majority of my time making music, not editing. Most of the time, I am pumping out tracks for myself, not necessarily building toward an album, though that would be nice one day. Cloudbounce makes my tracks better than I imagine I'd be able to do on my own, if I had the energy/desire to master myself. Also, it let's me make daily recordings and rapidly get quality results, in a way that I wouldn't be able to do if I tried to (slowly) try my own mastering. I'm not confident I'd do a better job if I tried my own hand, unless I really dedicated hours/months at it, though I'm willing to be corrected.
Also, I don't really want to use software for editing music. I don't use music software on my computer. I play my modular and love it, but If there's some "mastering" modules I should be aware of (I know streams does compression but my understanding is that alone wouldn't really be enough?) I'd love to hear it, but I'd likely not be willing to invest $1k+.
In any case, using Cloudbounce I've been able to record tons of tracks (sometimes 30+ a month) and get a "good" and sometimes "great" output. Perfect for Disquiet Junto, daily tracks, and all of my other output. Let's face it: music is a fun hobby but I'm not a professional. Yes, a lot of the automated mastering work is compression but there is more going on. But I couldn't tell you what. If I make a more professional album, sure, at that point, I can send my unmastered tracks to a professional, or maybe even try my own hand in hand-mastering.
I've been using cloudbounce for a year on a promotional deal that was originally $75. The price is now rising to $200 a year! Has anyone used a competitor, or any other options I should be aware of? Any hardware alternative or even a simplified piece of software that works like cloudbounce I should know of? There is a 4 year old thread on here about landr.com but not much info in it and it's out of date . Yes, I do really appreciate the mastering thread, but as mentioned above, wasn't able to find a simplified "auto-mastering" type option for the myriad quick tracks I do.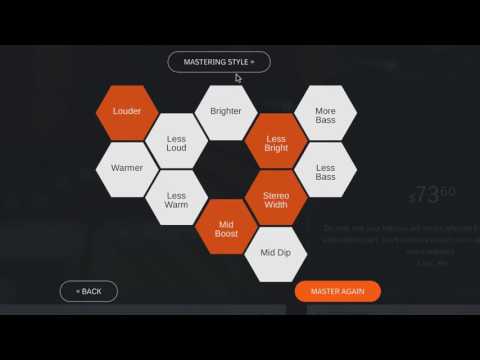 I am as I sit here writing this wary that I will get reply-guys responses, though lines community is usually better than this. If I ever do a professional album, sure, would be great to have real mastering done.
P.S. LOL, yes that video doesn't really sell itself to experimental, ambient, esoteric music production, does it? I should make a weirdo vibes video for them and DEMAND they put it on their website