bidiwave
wavetable synth for monome norns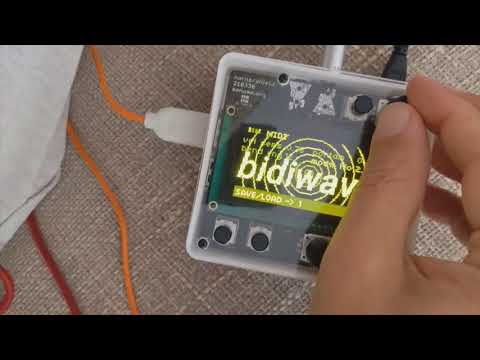 Inspired by ppg/waldorf stuff with nice Supercollider tricks added
Requirements
norns, MIDI
Documentation
enc 1 → change pages (hello, MIDI, wavetables, envelopes, modulations)
key 2 and key 3 → navigate page sections
enc 2 → select value
enc 3 → change value
hello page
key 1 save and key 2 load the preset numer chosen with enc 2.
With enc 3 you can navigate through wavetables while playing, a really nice one knob feature.
MIDI page
On the first section you can select velocity sensitivity, portamento in seconds, pitch bend range in semitones and modwheel controlled lfo speed maximum.
On the second section you can activate an arpeggiator in three modes, "play" iterates in the order you play notes, up goes up and down goes on its way too. With "freez" the arpeggio continue playing in background, if selected while holding notes.
You can select an action (octave up or step skip) the arpeggiator does every n cycles and another action the arpeggiator does every n steps (skip step or muting), so it's a little algo style arpeggiator.
wtables page
The synth use envelopes to interpolate between waves you choose in this page, in the square you can set in order oscillator 1 interpolation start and end and oscillator 2 interpolation start and end.
You can add your own waves, they have to be .wav audiofiles made by 512 samples and have to be placed in "waveforms" folder.
envelopes page
There are 4 envelopes, one controls amplitude and filter cut, other two navigate through the waves and the fourth is a crossfade control between the two waves.
In the first line with enc 2 you can choose the envelope to show and edit, with enc 3 you can activate or deactivate editing. Every change in parameters will update the values of the active envelopes (the bright ones), it's done for fast editing with so many parameters.
At the end you can choose with enc 2 and 3 the loop and release points.
modulations page
Here we have 6 oscillators detune, similar to supersaw… superwave. The "nF" parameters set the frequency for random amplitude lfos and "/" set the destination amplitude modulation, it may point to table interpolation, crossfading or detune. There's a lowpass resonant filter too. Just listen what happen and enjoy.
Download
v1.0.0 - https://github.com/fivedollarman/bidiwave
;install https://github.com/fivedollarman/bidiwave