borgue
cyborg fugue
we are borgue
you will be harmonized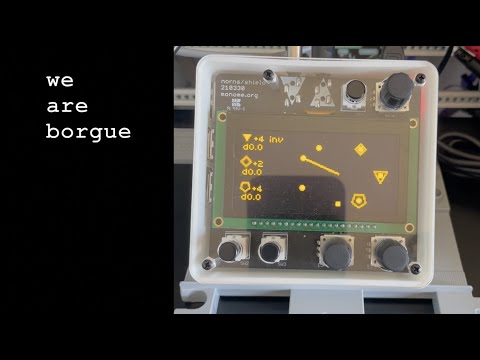 Borgue is… an autotuned transposing delay and looper. In case you needed one of those.
Set all the delay times to 0 to automatically harmonize
Set the delay times short to arpeggiate
Set the delay times to a bar or several to have yourself sing a fugue with yourself
Set the transposition of each delay voice, and optionally invert it around the root of your scale. All notes will stay in-scale.
Set the pitch spread of each delay voice, to vary between a monotone and wide-jumping intervals.
Set the speed of each delayed voice independently, including backwards or stalled if you want.
Freeze a voice to loop the delay. You can still transpose and mess with the speed of looped content.
Set a secondary delay on each voice to repeat it and make a sonic mess all over the local quadrant.
There's an option for L input to be processed and R input to be passed through unprocessed
Play with formants using the PSOLA-based formant-preserving (or formant-tweaking) pitch shifter, or spread grains all around time with the granular pitch shifter.
Yeah, there's a lot.
Requirements
Norns. Some way to get monophonic pitched audio in. That's it.
Documentation
– E1: Select voice
– E2: Transpose
– E3: Delay
– K2: Invert Pitch
– K3: Freeze
– K1+E1: Rate (how fast the playhead goes)
– K1+E2: Amp
– K1+E3: Period (for rate not 1) (how often the playhead resets to the nominal delay time)
– K1+K2: Mute
Check out the parameters menu for a lot more stuff.
Download
;install https://github.com/sixolet/borgue