caliper
Caliper is a tuner / frequency counter / volt/octave calibration assistant for Norns + Crow.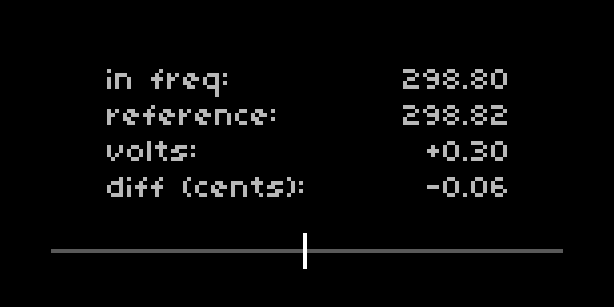 There are other tuner scripts out there, but this one comes with a very accurate Tartini-based pitch detector, reference tone, and CV output for calibrating an oscillator or filter. I made this last night when I decided it was time to recalibrate allll my filter modules, and figured it might be of some use to others.
Feature requests / questions / bug reports welcome! I may add the ability to tune the reference frequency to specific 12TET notes eventually, but I've also got a more full-featured microtonal tuner & scale editor script in the works, so I wanted to keep this simple.
Requirements
Absolutely required: Norns, version 200328 or higher (Caliper uses the filters library)
Not super useful without: Crow, something to calibrate (oscillator or filter, probably)
Documentation
From the GitHub readme:
Plug in a Crow, patch output 1 to the 1v/oct input of the device you want to calibrate, and plug your test subject's output into Norns's audio input (probably through an attenuator).

If a fundamental frequency can be detected, it will be displayed on screen.

Turn E2 clockwise to hear a reference tone. Turn E1 to change the reference tone pitch to match the input frequency. Hold K1 for fine control.

Press K2 or K3 to add/subtract octaves at Crow's output, or turn E3 to adjust output voltage to arbitrary values. Check the tuner display and cents offset. If subject's tracking is too wide or narrow, adjust its trimmers accordingly, turn E1 to match pitches again, and repeat.

Hold K2 and K3 to reset Crow output voltage to zero.
Download
Available in the Maiden project manager.
v1.0.0 - https://github.com/synthetiv/caliper/archive/v1.0.0.zip