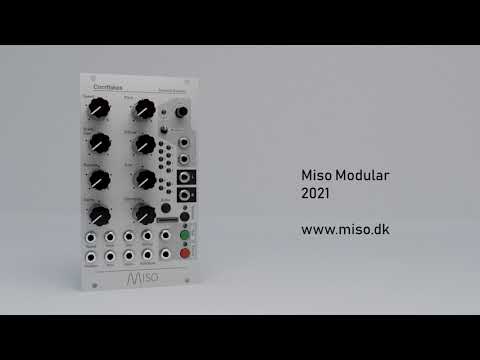 Miso Modular is a Denmark-based eurorack modular company founded by Mikkel Pihl and Søren Lyngsø Knudsen.
They describe their modules as "intuitive, with top of the line audio quality and advanced functionality that pushes forward in the world of modular".
Their first module is the granular sampler Cornflakes, which came to market in February 2022. They have announced plans to release "at least" one more module in 2022, which is likely to be a dual looper called Bicycle.
They are active on the Instagram, and offer a newsletter for your enjoyment.
The company describes Cornflakes as a "crisp clear granular stereo sampler and harmonizer" with the following capabilities:
The module has the ability to time-stretch, pitch-shift and produce harmonics. It's calibrated to 1v/oct to encourage a bit of musicality. Recording and playback can be triggered manually or via CV.

Cornflakes, being a granular sampler, does not play its samples back conventionally, but split them into smaller bits called grains. Furthermore, the grains are divided into four simultaneous voices to allow for polyphonic pitch control or harmonization.

The module features 32 memory slots for samples stored on an SD card and you can run audio through it live for real-time processing.

There are manual and CV control over Speed, Diffusion, Harmonics, Pitch, Grain Size, Position, Trim and Distribution.
The Cornflakes FAQ can be found here, and the manual here. Instructions for how to name files on the SD card are detailed in the FAQ.
A YouTube video detailing the harmonization capabilities of Cornflakes can be found here.
Cornflakes is listed on modulargrid here.
UPDATES:
6/1/22: Cornflakes 1.1 firmware released (link)