@samarobryn this is beautiful - i'm playing along to it right now
This is a simple study combining a steady 5/4 time with string parts in both 5/4 and 4/4. I started with a piano part keeping a beat on 1 and 3 counts and added other parts as the piece progresses. It is rather short but I am thinking about expanding this into a longer piece. I found it very inspiring to shake up the time signature a little but Ableton does not like it very much! Thanks again Marc for a fun and interesting challenge.

Folky thing with guitar and upright bass. Realised half way through this might be better thought of as 5/8, but what the heck!
Erik
Had some crazy drums lying around and thought, hey why not? So, syncopated bass and synths, bit of a bossa nova groove, and of course a silly melody to offset the seriousness.
First time in a LONG time I've managed a Junto submission, I used Spitfire Labs wonderful Soft Piano & made a couple of bits of melody. I then programmed some counterpoint, using a Teletype via i2c to Just Friends, processing through a ZVex Lo Fi Junky & Sisters, with Valhalla Supermassive adding some further aural sauce once I'd recorded it into Logic.
I started with a progression I liked and added arp patterns. The piece is intended to recall 1950s ad jingles, done in 5/4 time.
It took me a while to find my groove but I've just managed to complete this project before Monday night.
I've used a few of my Roland Boutiques and decided to include the SH-01A, although it's a bit noisy.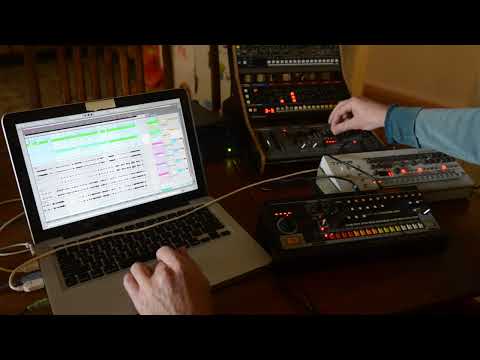 Exploration of a 5/4 beat with Klevgrand Borsta, Renoise and an Ableton 808 kit. Some lo-fi mangling by Unfiltered Audio Lo-fi AF and Aberrant DSP Digitalis. Most of the transitions happen on 5-bar boundaries.
Thank you for this great project! After reading the assignment I decided to take more inspiration from Take Five then the beat…
Thus I intended to create a jazzy track with piano. The idea of jazz lead to the decision to do a "Musical Bots" track (as I call them), using the CodeFN24 Transition sequencer for all instruments (bots in a matrix with degrees of randomness).
I downloaded the MIDI-track of Take Five to get some inspirations (some harmonies and rhythmic elements).
On freesound I looked for fieldrecordings for "Take Five" and - following some links and ideas - I found the wonderful recordings of dutch church-bells by klankbeeld. I selected three which I used in the track. One determined the tempo of the track, the other was time-stretched to fit to it. Then I used (Cubase) Varaudio to pitch the single bell tones to the harmonies.
6 instances of Transition now play 7 piano-derived sounds (4 Hauschka Toolset (layered), 2 from pianobook, 1 Steinberg Verve) and the drums, groups of bots being switched on and off by automation. Only some harmony chords were added manually.
Effects and EQing was added in Cubase.
And - after I was nearly finished - I had the idea to associate the 5 with our local tram line 5 and added the fieldrecording of an Amsterdam tram to the track.
Hi all,
This was a lot of fun!
I took Marc's instructions for this week's assignment the other way around to explore a different avenue with this combination of numbers: Instead of 5/4, I went for a 4/5 feel (so based on five quintuplets rather than four sixteenth notes to the beat. Or alternatively, you could look at it as a very fast 5/4).
This was inspired by Miles Okazaki's excellent book "Fundamentals of Guitar". The chapter about rhythm explores these and far more complex polypulses. Find the book here: Fundamentals of Guitar — Miles Okazaki
Also, I tried for something along the lines of the London-based math jazz band Strobes. Check them out! https://strobesband.bandcamp.com
So I ended up with a rather unsteady-feeling groove and the tricky task of playing a couple of guitar breaks in quintuplets.
Hi! Long time, no junto. I had fun. Don't know much about 5/4 but I changed the grid in Ableton. Made a drumloop. Had M4L-device Melodic Steps make me some rhodes riff. Doubled the rhodes to get some chords. Last I added a synth-bass playing full bars. Tried to solo guitar over, but I was totally lost.
It's all a bit random. After1:20 there is nothing new happening.
published on the #fediverse
I ended up with some breakbeat IDM. This Junto was a bit nostalgic for me as I used to write in odd meters exclusively. I've relaxed since then but the odd meter still sparked creativity as I remember. Many of my effect sequencers are not built to handle odd meters and produced some interesting, unpredictable glitches. Good times.
been wanting to do the weekly disquiet jawns for a philadephia minute. as an added element to the already always interesting challenges, i will be creating mine henceforth at 10:59 pm before the deadline because i love procrastination so much apparently, might as well make it official
i've loved dave brubeck's music since i was a smaller small pro, my mother used to play "Take Five" back to back to back. can't wait to listen to all these submissions too, the breakdowns sound cool af
(also, i hope this is actually 5/4)
Listen to i'll send you (ruff) [disquiet0540].mp3 by small professor on #SoundCloud

Late night, so I won't be verbose. I thought I'd experiment with a couple of ideas, one being a clave over 5/4, which I just learned is already very much a thing (but it's new to me!), and, in the B section, a pattern that goes over the barline of 2+6+2. Threw together some ideas and came up with a very short track that hopefully grooves!
Like a lovely walk in the woods…we'll done!