a live performance in one take. ambient improvisation. mlrv, modular, monome grid+arc, earthsea, ansible, the entire mannequins line, and various fx.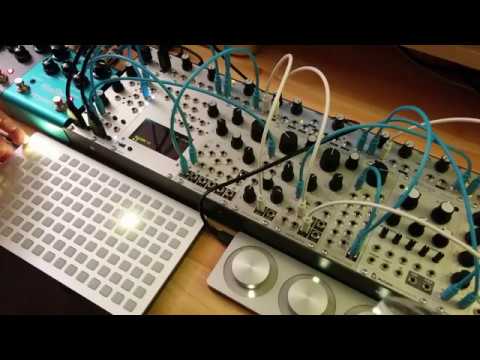 ansible is running cycles, which lets through waves of white noise generated by cold mac, from @glia's CM patch suggestion. i switch between rhodes loops (and inner loops) on mlrv and triggering earthsea patterns recorded earlier. earthsea POS notes are sent to mangrove and 3sis, EDGE gate to envelopes from JF's sustain/shape mode.
so many beautiful cascading melodies were made tonight. i am constantly surprised and thrilled by just how inspiring this setup is, now that my mini-composition system is complete. combining the modular with mlrv brought even more timbres into play. this was the first time i'd used the newest modules, and the first time putting this entire setup together. i'll definitely revisit this workflow in future projects.