Lepidoptery
your sonic butterfly collection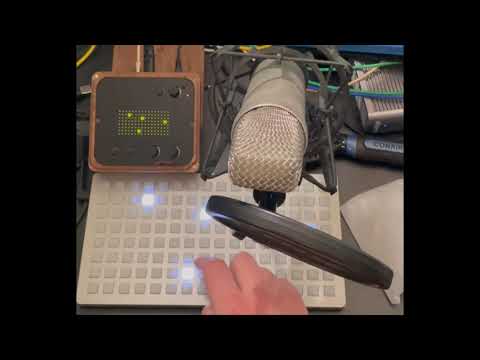 NB: I used a guitar pick scrape here that ended up more annoying sonically than I intended. This is just a demo, probably you can do prettier things with this script than I did here.
Make some sounds. Use the grid to pin down the sound at any given moment. Your butterflies are well-organized, of course. Each row has a particular color, with the higher frequencies toward the top of the grid, and the lower toward the bottom, and each column has a particular shape, going from long butterflies on the left to very short butterflies on the right. The butterflies in the middle are a bit more fluttery.
This is inspired by the Blukač Endless Processor (though it's just granular rather than "resynthesis whatever that means) and MI Beads and other granular synthesis in general.
Requirements
norns (required), grid (recommended, can be substituted with a MIDI keyboard)
Documentation
As you are the lepidopterist, you can reorganize your butterfly collection in the params, deciding exactly what color each row should be, or exactly what shape each column should be.
Tapping a dark grid key adds a butterfly (records sound and then plays it using a granular sustain). Tapping a lit grid key toggles playing the butterfly.
Holding K2 allows removing butterflies.
Holding K3 + a butterfly + an empty space allows copying the pattern of the butterfly to a different shape and color.
Holding K3 + a butterfly + E3 adjusts the volume of the butterfly.
When you save a pset, all your pinned butterflies get saved to dust/audio/lepidoptery/[pset num].
To use with a midi keyboard, the octaves map to rows and the notes map to columns. Otherwise operation is the same, and there are four inaccessible columns.
Download
;install https://github.com/sixolet/lepidoptery