in may, i was lucky to submit a video to the cached media season 2 showcase - may 26 & 27 (twitch), celebrating a triptych of releases from so many artists i deeply admire, including a collaboration with zander raymond (qualia: dan derks & zander raymond). my portion was an improvisation with a soon-to-be-released norns script: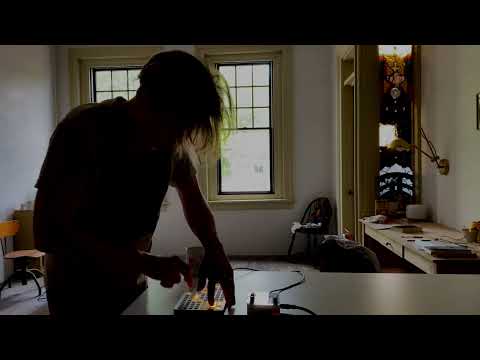 i was deeply humbled by and appreciative for the enthusiasm of folks who tuned into the stream – it was the first bit of music-making i'd done since my car accident in january, and the generosity of y'all's support + care was such a welcome buoy from the feelings i was struggling with last year (the 'qualia' thread above has all these details).
and much much love to @tehn , whose gentle-yet-consistent provocation led to considering bundling and sharing the tunes in a lil' collection – with his help, i've gone through and edited my audio into an EP called mirrored heart, named as a reminder for myself to always seek what can be shared between folks beyond personal fact comparison:
i'm also super grateful to rocky, my spouse, for providing another on-the-dang-nose expression of cover art.
---
if it's fun to get some background, the script is called hills – it combines a 7-voice FM supercollider synth i'm working on (kildare) with three stereo softcut voices. the left side of the playable surface is a matrix of momentary buttons which iterate through humanized-but-clock-aware sequencers for each of the 10 parts. the right side has some meta functions, like pattern recorders and snapshots which can be restored immediately or over a specified duration (just a script-specific adaptation of @Galapagoose's fnl function from maps s2e3).
synth tones are all kildare but then the softcut buffers have these drum samples from matt davies (who is unbelievable + his collaboration with church andrews is why i started scripting hills) and that friggin' sax is from dane.zone's a bit of everything vol. 1. the stereo output of the script was then run through true iron and valhalla vintage verb for extra spice.
i'll have more waypoints for hills and kildare over the coming weeks, but wanted to share some prelim deets in case folks were interested
---
thank you all for reading, for being so warm + kind to me both on and off lines, and i hope these weirdo clips are a nice mid-summer vibe