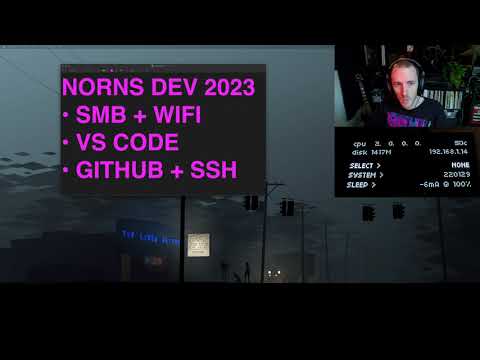 by popular demand, here is the sequel to ye olde 2021 video.
links n' stuff

★ KAIZEN: A philosophy or system that is based on making positive changes on a regular basis.

★ DOWNLOAD VS CODE: https://code.visualstudio.com/

★ DOWNLOAD ITERM2: https://iterm2.com/

★ SMB CONNECTION INSTRUCTIONS: WiFi / update / files | monome/docs

★ NAVIGATE TO SMB'D NORNS: cd /Volumes/dust/code/foo

★ SSH KEY INSTRUCTIONS: Adding a new SSH key to your GitHub account - GitHub Docs

★ THE "SSH NORNS" SHORTCUT: To use the ssh norns shortcut, follow the GitHub key instructions above and then add a norns host entry in ~/.config/ssh. (You will have to do some searching to smoke out all the details and edge cases that will come up when doing this. Search for something like, "how to setup ssh shortcut.") See also: advanced access | monome/docs

Host norns
  Hostname norns.local
  User we
  UseKeychain yes
  IdentityFile ~/.ssh/id_ed25519


★ NORNSILERPLATE: GitHub - northern-information/nornsilerplate: monome norns + boilerplate = nornsilerplate

★ ATHENAEUM: GitHub - northern-information/athenaeum: a repository of study, spike, and sample scripts for norns

★ INCANTATIONS: norns incantations · GitHub

★ NUKE NORNS: nuke norns / listen to techno - YouTube

★ YE OLDE NORNS DEV 2021: norns: development setup - YouTube
because life's too short to not be comfortable when scripting!