despite some weak attempts, I havent gotten a grasp on SC at all yet, but i see that there is a "PMOsc" for Phase Modulation.
Would it be possible to achieve the same type of Sample Phase Modulation that the Assimil8or does, or is that a more complex dsp/the sum of many smaller processes, only one of which is phase modulation/not worth developing a script for in norns for whatever reason?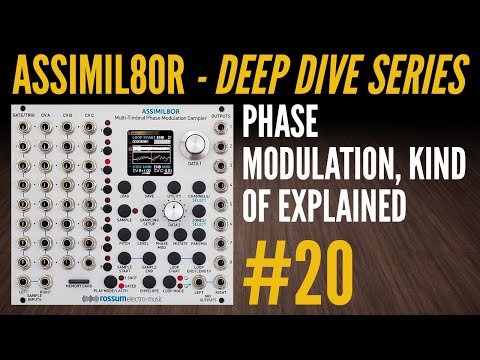 it sounds like an interesting concept. Im just curious if its been implemented practically in any other format aside from that module
looping/time-stretching, pitch shifting & granulating audio processing techniques for samples have been covered in existing scripts. just trying to brainstorm more interesting ways to mangle things in norns
"Rossum are proud of the fact that the Assimil8or is the first sampler to allow phase modulation between samples. More commonly, and erroneously, known as frequency modulation by Yamaha, phase modulation allows one sample to phase modulate another. Instead of altering the fundamental frequency of a sample, as proper FM would do, phase modulation alters the timbre, allowing for much more musical results. In practice, phase modulating samples requires some experimentation. It's not quite as predictable as when dealing with sine waves on a DX synth, but it opens up a world of potential. As well as using one channel to modulate another, you can also use CV inputs or the left or right sample inputs. This means you can use an external audio signal as the modulator. You effectively have an 8-operator phase modulation oscillator which is able to load samples. Quite mind blowing when you think about it."
http://www.rossum-electro.com/fqlzron/wp-content/uploads/2018/04/Assimil8or_man_040618-2.pdf
if i ever learn to create my own scripts, i want to make something like MI Warps + some of the ableton stock effects i've found to be most useful for processing samples. it would be something like pedalboard i suppose, but also Sway, where the effects can interact. it would have mutlitple bandpass filters for modal resonating, cross mod, phase mod, frequency shifting, formant shifting, vocoder with external input + internal noise, wavefolder, bitcrushing, binarual panning. this actually seems like it might be easier to create as a puredata patch for nornsmother