a 3-operator FM synth with fx. inspired by yamaha portasound keyboards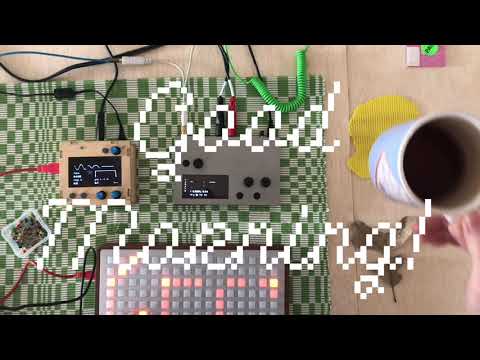 orgn is a 3-operator FM synthesizer followed by an FX engine which loosley emulates yamaha's ultra-cheap range of consumer keyboards from the 80's & 90's - the PortaSound series. whereas these keyboards were locked into 100 or so sometimes corny factory presets (with a catchy demo song to match), orgn gives you full control over the synthesis & fx engines. you can also process external signals through the FX via the norns inputs.
this project began in max about 4 years ago when I wanted a little more from my PSS-170, and today I'm happy to share the 5th & final iteration of this idea : )
requirements
norns (210927 or later)
grid (any size) or midi keyboard
audio input (optional)
midi mapping encouraged
install
in maiden, head to the books, refresh community catalog, install orgn, then run SYSTEM > RESTART to boot the new engine
POSSIBLE STROBE WARINING on the screen graphics for this script. I'll add an option to disable the graphics as soon as I get a chance
combos
although it can pull its weight as a solo instrument - orgn was originally imagined as a companion to audio looping instruments like wrms or anachronism. pure tones & textures facilitate layering while on-grid controls and macro mapping allows one to speedily morph patches for each new layer of a loop. while I personally use two norns for this kind of setup, I'll be maintaining a short list of "combo" scripts that put the orgn engine & grid interface in the background of another norns script utilizing softcut. midi mapping is encouraged in these cases as you'll no longer have access to on-screen encoder controls.
combo scripts may be installed separately via the maiden catalog. both scripts will need to be installed first.
orgnwrms: orgn + wrms. connected 128 or 64 grids are mapped to orgn.
thanks to
for various code snippets & jumping off points for the effects engine
for inspiration on FM & envelope parametization (w/ synth & just friends)
future maybe
known bugs / issues
currently i don't have a polyphony limit implemented – in transient mode with longer envelopes it can be pretty easy to blow up the engine
there are some performance issues, sadly. this can be noticeable when playing quickly, uhh, sometimes? restarting the script always seems to get things back to normal. optimization is a weak spot for me so it's going to take me time to sort this out. (i.e. i'm pretty unsure if the issue is coming from the app lua code, included lua libraries, the engine, or some combo of all of these)
still not really happy with the fine tuning on span, oh well
roadmap
encoder quick mapping
global PM scaler
arc support
better envelope behavior in mono mode
---