A bit over a month ago @Angela and I had a nice catchup with @dan_derks, and among talking about community, and the Gib Gab sessions (free lessons/mentoring/advice/etc…) that I've been doing for just over 5 years(!), we got to chatting about how something like that could be interesting but as like a "live" thing, or at least, a "video" thing.
@Angela and I chatted over the idea a bit, and after a bit more thinking, came up with the idea to try filming the next Gib Gab session I do (if the person was down of course).
Unrelated to this, @infinitedigits had just listened to my episode of Sound & Process and decided to message me about a Gib Gab. I pitched the, at the time unnamed idea, to him and thankfully he was down!
So with that I present the first Particle Castle Bubble Party!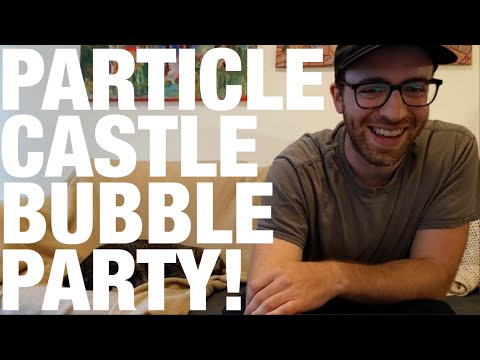 Although other people don't generally get to see/hear this, the "Gib Gab"-ness of it feels very similar to me. Zack and I have a wonderful and wandering conversation around some of the subjects he initially emailed me about, as well as tons of other things that emerged organically.
@Angela edited it all together (in a super flowing way I think!) and put in media/images where relevant, and we've put links to everything in the video description as well.
////////////////////////////////////////////////////////////////////////////////////////////////////////////////
The idea is for this to become an ongoing series, like play talk play, also under the overall Amplifiers & Explosions thing (which in a post-COVID world will also host physical humans in physical spaces).
If you're interested in being part of one, let me (or @Angela) know.
For the time being, this would ideally be with people who can film themselves and their setup somewhat well (decent phone/light) and is handy with OBS/recording to capture their end of things, since it turns out trying to sync so many stream-y sources/framerates was a big ole PITA.
We have some ideas of where to take this in the future as well, but for now, this is a good place to start.