Actual lol at your first sentence. In the bath too. I coulda drowned.
wow! That looks very fun to play.
Love the quad joysticks, but that screen in the center looks small with a lot of information crammed in. I'm out unless they include a magnifier attachement ala Terry Gilliam's Brazil.
I would hope that the screen is not completely necessary for setting up a nice patch. Apparently the encoders are all assignable up to 8 different parameters each (with value ranges per parameter), and the joysticks can be assigned as well, though they each have a useful default setting (ie. pitch/modwheel, filter cutoff/res, etc)
The only thing I could immediately see needing to really read the screen for is the sequencer portion, though this is probably easy enough to program in with the key interface rather than note-by-note with the digital sliders.
Another interesting-looking Dreadbox DIY module / standalone voice:
https://www.dreadbox-fx.com/dysphonia-diy-kit/
That chunk of logo space in the top right seems like a missed opportunity, but perhaps less is more.
Yeah, it's quite tempting as a first (or maybe second to get some practice in first) DIY project for me.
Whoa! That looks amazing. Although, I'm not the world's biggest fan of that type of keyboard. I'm guessing that it interacts with the joysticks in some MPEy kinda way that makes more sense once you're in the driving seat.
I must say I love the look of the JD-08. Not interested in the synth at all though.
I have the JU-06A… I think I'm going to see if i can make a good deal selling it and getting the JX-08 one in stead. For me the JU-06A is a very playable and very portable synth to take with me playing live. The JX-08 would cover a bit more range in sounds. And I've read that they have more polyphony, But i can't find that on the official Roland page. And they are dual timbral, at least when using it's own sequencer.
I like the sounds: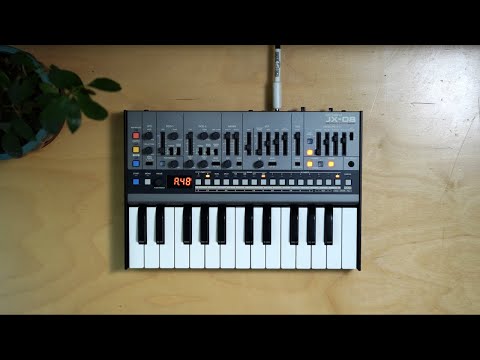 I have, no kidding, been dreaming of this exact kind of magnification for the little screen on my Squid Salmple, and even for the Teletype! Does anyone know of what to search to find this (possibly obsolete) technology? "Screen magnifiers" for cell phones do exist, but they're mostly slip-on or stand mounted, whereas I'd love something on a gooseneck…
What Terry Gilliam is using there is called a fresnel lens and like everything else you can order one from China for a 5er.
You can also get a square "classic" magnifying glass, like the ones that was on the gameboy or gamegear handheld devices.
The special thing about a fresnel, is that it has the same lens effect as a classical magnifying lense, but it's a flat sheet, instead of a convex, which takes up more space.
My StemPlayer came finally yesterday. And while it's the most frivolous thing ever it really is fun and has an amazing visual and tactile feel (light/color, texture, haptics).
at first i was really bummed they released the kano version and not the TE version… but now after seeing it out in the wild, i'm guessing that the tactile feel of the kano is just way better than the TE experience.
for me the hardware is not frivolous as a listening experience- i'm super into monome grids and they are "just" a bunch of buttons with lights. but there's something that escapes an easy summary in words about the physical connection of using hardware that is closely coupled with music… not only in a technical way but also in an aesthetic way as well.
The down side to most solutions is they are very angle dependent.
You might be able to find one at a drug store that you could mount on something. You can occasionally find small magnifiers near cheap eye glasses. Might be worth a look?
There was no hype before it suddenly became available at various dealers, but for those interested (attn: @Puscha), the SSF Vortices V-Mutes CV/Mutes expander is finally out.
VFE is preparing a new run of their Klein Bottle guitar pedal for "summer 2022".