qqquaint
playable multi-tuning quantizer for Norns, Crow and Grid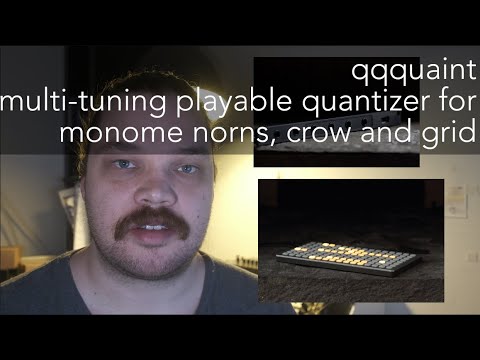 qqquaint is a quantizer that was designed for maximum playability with Grid. It started as a simple exercise for microtonal quantization, but got a bit out of hand. It's inspired by eurorack quantizers with piano keyboard style note selection, MTM Turing Machine, and the 5-step sequencer of Buchla Music Easel. qqquaint features custom scales up to 24 intervals long, and user scales can be added to the code. Further instructions are on GitHub readme.
qqquaint also features two interval outputs in addition to root output, 10-step trigger generator, and 10-step looping for past cv values. Quantized notes can be transposed, octave can be switched, and there's drift which adds slight randomization to output voltages.
Ideas for future development:
Grid page with playable keyboard
More robust Turing machine-like internal random source
Bolting on a Supercollider engine for Norns-internal sound
Requirements
Norns and Crow (required), Grid (optional, but strongly recommended)
Documentation
ReadMe on GitHub: ReadMe on GitHub: qqquaint/README.md at main · TommiQQ/qqquaint · GitHub
Crow input [1] takes clock, Crow input [2] takes incoming cv, Crow outputs [1-3] output quantized voltages, Crow output [4] outputs triggers. On Norns E1 changes parameter selection, E2 & E3 change parameters, K1 resets transpose, octave and drift.
Grid controls:

Please note, that this is my first "serious" Norns script and I'm no programmer, nor musical theorist. I'd be glad to hear of any bugs or development ideas, and if you have a favourite tuning/scale you'd want to be added to qqquaint I'd be glad to do it. I have no equipment nor knowledge to fully test out if the tuning system actually works hertz by hertz how it should, the main thing was to make it fun to play and sound good to my ears and that I think I have achieved.
Download
v0.5 - https://github.com/TommiQQ/qqquaint/archive/refs/heads/main.zip
GitHub - TommiQQ/qqquaint: Multi-tuning playable quantizer for Monome Norns, Crow and Grid
On Maiden: ;install https://github.com/TommiQQ/qqquaint