roundabout is a small patchable synthesizer I've been working on.
My goal was to make something small, cheap to produce, portable, self-contained (no need for a mixer or other equipment - just headphones) and that's fun and exploratory. Something you can just play around with on the couch.
It draws inspiration from other strange standalone boxes from Rob Hordijk, Lorre-Mill and Ciat-Lonbarde and the great series of "Logic Noise" articles by Elliot Williams on Hackaday.
Here's a noisy "rungler" style patch.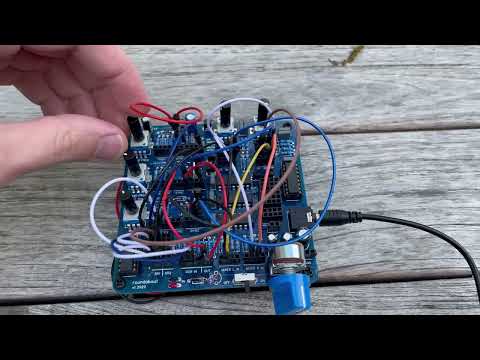 Tech details
uses jumper wires and pin headers for patching
CMOS-based circuitry
3 oscillators with sync and weighted CV inputs
2 goofy state-variable filters
2 frequency dividers
2 4-bit shift registers
4-bit R2R DAC
2 mults and an extra buffer
left and right mixers with weighted inputs
stereo output suitable for headphones
powered by a 9v battery (rechargeable NiMH recommended)
Update: I've put the schematic, BOM and gerber files up on Github, so anyone with DIY skills can produce boards and build one. I also started a rough "manual" with some more details.
If anyone does build one, I'd be more than happy to help with any issues or receive any feedback you might have.