Hello Lines community. I've been a lurker for a few weeks and you've been an inspiration. I want to share this project I'm working on. It's a grid style MIDI controller that can flip into a computer keyboard: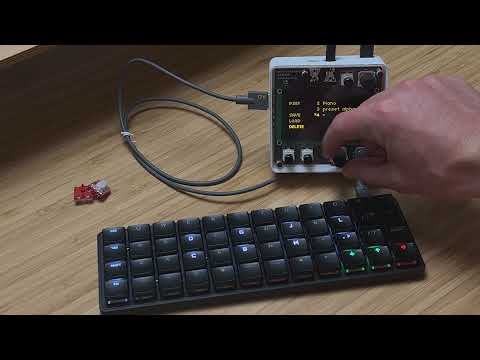 Story
I'm a bass player, so playing software instruments is often a challenge on piano keyboards. I wanted a simple MIDI controller to let me do that.
I was watching a video by Voidstar Labs where he made a mechanical keyboard and saw that his keyboard had straight columns instead of staggered columns. Turns out that's called "ortholinear" in the keyboard world and it looks a lot like a fretboard! So I bought a mechanical keyboard with addressable backlights and tweaked the firmware to add a layer with MIDI controls and fretboard style lights.
Make Your Own
You can make your own by buying the same keyboard (Technik by Boardsource.xyz) and flashing it with the new firmware. Instructions are here.. I'm not affiliated with Boardsource, it was just the only ortho + low profile + backlight keyboard I could find. The parts are about $240 before shipping.
The compiled and uncompiled firmware are on github at sndwrk/musicKeyboard. I'm new to this open source thing so please let me know if you have any questions.
Future
I would like to make a custom model with a few improvements.
-5th row for numbers and better range
-Pitch Bend, Modulation Wheel, and global velocity knob to complete MIDI controller features
-Dedicated Octave and Mode Switch keys
-(maybe) playhead controls while in music mode
Acknowledgements
"Guiboard" - inspired me and is similar to my concept
"Hybrid Hexagonal Keyboard…" by s-ol here on lines - I actually found their post after I got my project working. S-ol's device also flips between keyboard and MIDI on the same buttons. Our projects are pretty similar but with different layouts.
~Sorry I can't add all the links in this post. Thank you for reading and making lines a great resource!