Here's a little something I've been working on that might be useful to the very small subset of people that have both a Teletype and a Sinfonion. One of the biggest issues with the Sinfonion is that it is so fantastic you end up wanting to use it for all your voices… including your other synths over midi. The Teletype is also, of course, an extremely powerful sequence and quantiser. Wouldn't it be great if they played together?
Unfortunately the Sinfonion doesn't have implemented i2c. However! It does have a feature called harmonic sync that's designed to allow two Sinfonions to play together.
Mathias (Der Mann mit det Maschine), the creator of Sinfonion, kindly shared some code to allow me to reverse engineer how the data stream of the harmonic sync feature works.
I'm not a hardware person and I don't have the means to design a separate module, so I've piggybacked off @attowatt's excellent i2c2midi module.
---
Sinfonion → Teletype Bridge
Sinfonion → Teletype Bridge is a mod for the i2c2midi module. It includes custom firmware for both the i2c2midi and Teletype that includes a new OP to read the current Scale, Mode, Degree and Transposition currently in use on an ACL Sinfonion. It can be used to quantise note values on the Teletype to the currently selected key of the Sinfonion. This essentially extends the number of Sinfonion's quantiser channels by as many CV outs as your Teletype setup has. As well as this, it allows you to send Sinfonion-quantised notes to midi devices via the i2c2midi.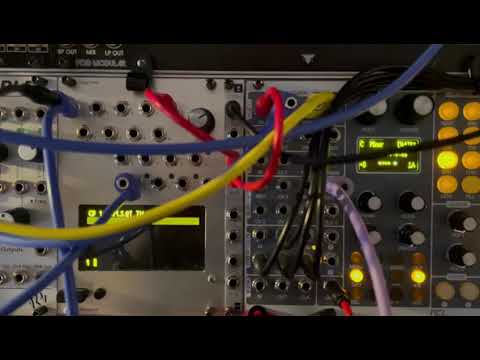 (sorry about the production values, or lack of, on this video).
---
The Mod
To get this to work, you need to solder an extra TS Jack to pin 7 (tip) and Ground (sleeve) on the i2c2midi's Teensie. Make sure you have a 47K resister on the pin 7 wire. I put this new jack on a passive mult to expose the connection.
Then you need to flash your teletype with the Sinfonion bridge teletype custom firmware.
Next flash your i2c2midi with the i2c2midi Sinfonion bridge i2c2midi custom firmware.
Set your Sinfonion's OUT 1 to Sync Master, then connect OUT 1 to your new i2c2midi jack.
That's it! You can now quantise notes to the Sinfonion's key using the new I2M.S.QT OP.