yes, but according to the website these are only made in Russia.
I would reach out and ask, with how unpredictable their situation likely is. I emailed them about Cosmos last week and they got back to me the next day.
Yes. Soma have been great at responses in my experience with them. They even gave me a slight discount when Ether 2 came out as I'd already bought the first one and jumped on the second as soon as it was released
well, my number came up to order one from Russia - has anyone done this recently that would care to relate their experience?
(edit: the whole process from payment to receiving the package took a little under a month for me.)
As I keep all my synths tucked away on top of a bookcase when I'm not using them, does anyone have any ideas of where to get a dust cover or case for the Enner?
Is your phone feeding it audio to be processed?
Yes indeed! The external input is so great.
That's cool. I think I just found one to buy. Hope it hasn't sold yet.
I just got into Enner and the electro-acoustic part of it is mesmerizing.
I was wondering what materials do people use to create different sounds and where do they place them.
Maybe we can all share a photo of our Enner set-up to get ideas from each other?
I have 2 elastics on it and the original spring but that seems too loose, I would prefer something tighter or thicker.
Here's my humble Soma setup. I also keep a collection of things at hand (primarily the Leaf Audio soundbox accessory pack). The mics in the enner are very sensitive and I find that micro gestures work best.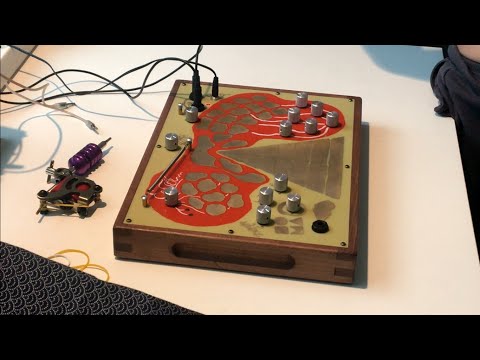 Not special setup, but found some techniques.
Shaking Enner, pushing the corner, and using 2 Euro as gravity sensor. Funny-!
Curious what you are going to record with the Cosmos. I also have a Soundbox. Haven't tried it together yet though I've been running my modular through the audio input for some fun filtered stuff.
I've used with a ton of my gear so far. Here's a playlist with some noodles. It shines as an x-scape maker, but also is lovely at end of chain.
I've enjoyed your music before. Didn't realize you were itwasthewires. You are prolific.
FYI - the Enner fits into the Apache 3800 case (Harbor Freight). The larger 4800 will also work, but just illustrating how this case works with the Enner. These cases are sturdy and waterproof, and by far the best thing that Harbor Freight carries. I used to buy the identical cases from Container Store.