FRIENDS!
We just launched our new show!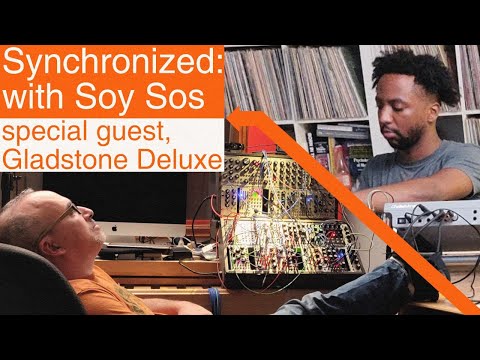 For over a year, I've been getting together with Richard from Pittsburgh Modular
in the midst of the great pandemic and doing a thing loosely constructed as Modular Clock Experiments.
Tonight was the first run of a new series called - Synchronized: with Soy Sos
Please have a look and let me know what you think. There were of course, a few technical difficulties,
but we overcame. We started off with a great guest, Gladstone Deluxe and I have an amazing group of friends that have already said yes, plus we have plans to do this live with a great presenting partner.
Of course Richard Nicol will always be a most beloved guest.
Join Soy Sos and musical guests for an intimate, immersive sound experience with modular synths, electronics, and a mix of traditional instruments! Using synchronization-based stratagies, Soy Sos collaborates with contemporary sound artists to create live, improvised sound-scapes. Performances are bookended with informal discussions focusing on the guest's origins in music, chosen performance setup, current/upcoming projects and the approach for the episode's jam. Tune in live, join the chat or catch up later on the archive. Gladstone Deluxe is a classically trained percussionist who has performed as a soloist at the Kennedy Center, a Producer/DJ with multiple works charted in the Beatport Top 10, a technical audio engineer at Facebook Reality Labs, and a sound artist creating interactive installations that combine spatial audio, motion and reactive electronic soundscapes. Gladstone was born and raised in DC, and is currently based in Pittsburgh.⁠ (Although he's about to move) Gladstone Deluxe Links: Spotifyy: https://open.spotify.com/artist/3bUaT… Soundcloud: https://soundcloud.com/gladstonedeluxe Facebook: https://www.facebook.com/gladstonedel… Herman "Soy Sos" Pearl - http://www.tuffsoundrecording.com/ Pittsburgh Modular Synthesizers - https://pittsburghmodular.com/