Tviburar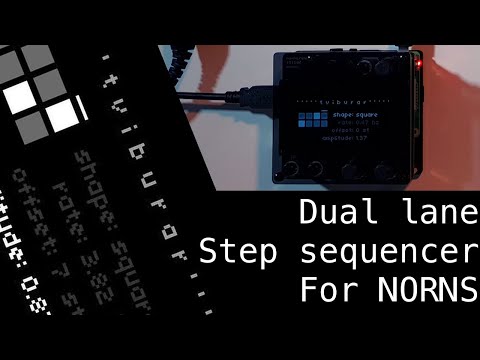 What?
A dual lane four step polyrythmic sequencer where each step contains a free running LFO that will generate notes. The LFO modes are, square, random, ramp up, ramp down and sine. Each step can also be muted. The two sequencers can influence each others LFO values creating a complex environment where the rate of repetition is stretched out over a long, near infinite, timespace.
Written by Filip Forsström (@ljudvagg) and Linus Schrab (@vicimity).
The script is based on an original concept built by Filip for the Nord Modular G2.
How?
Tviburar boots up in a calm state with four square wave LFOs outputting notes to the internal synth engine Polysub (requires 'we'). The LFOs are seeded random rates between 0.33 and 0.66hz. Only the top lane (twin 1) is active, twin 2 is muted. Choose your preferred destination in Parameters > Edit > midi & outputs. The options are:
mute
polysub
midi (with selectable device and channels)
crow
w/syn
jf
Return to the scripts main screen and scroll through the sequencer steps with E1. E2 takes you through the available LFO settings and E3 changes the selected value. The currently selected LFO is shown with a line above or below the selected step.
To edit the second lane (twin 2) hold down the alt key, K2 and scroll with E1. The currently active lane is shown with a line to the left of the sequencer lane. As with the LFOs, the lanes have settings that are accessible in the same manner as the LFOs. E2 scrolls through the avalable settings and E3 changes its value.
The third setting for lanes "twinfluence" is secret sauce. It amplifies the influence between the two sequencers LFOs, creating complex waveforms for the ramp and sine LFOs and altering the note value, offset and amp for square and random.
Finally, K3 will halt the sequencer, this can be handy when tweaking a specific LFO. K2 (held) + K3 will reset the sequencer, returning both lanes to step 1. The combination of K2 and K3 can be used as a performative tool.
The dual nature of Tviburar can be used to sequence two destinations, internal modulation or both at the same time.
Install
Enter ;install https://github.com/linusschrab/tviburar in Matron or via Maidens script library.
Please let us know if you have feature requests or run into any bugs.
Post your questions and share your explorations.